Homemade care methods are the cheapest and, as it turns out, the most effective ways to achieve beautiful hair. We love oils for their rich compositions and properties. We love honey, dairy products and herbs for their delicacy and comprehensive action. From now on, apart from them, we can also include coffee in our hair care routines.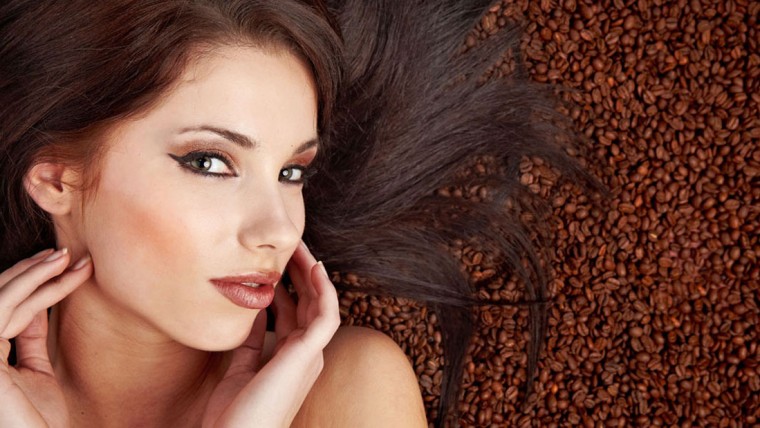 If you are not sure what to do in order to achieve beautiful hair, always reach for products you can find in the kitchen. Coffee is a perfect means to boost hair growth, smooth, add shine and exfoliate scalp to get rid of remaining dead skin cells.
The basic properties of coffee used in hair care, are:
– Acceleration of growth due to the caffeine (stimulates microcirculation),
– Inhibition of hair loss by nourishing bulbs,
– Cleansing and nutrition of the scalp thanks to coffee scrub,
– Smoothing and adding shine from the roots to the ends.
You must keep in mind that coffee can change the colour of your hair. Regular use of coffee rinses can change it into a darker or warmer shade. However, it is not a permanent effect. Once you stop using homemade rinses, your hair goes back to its natural shade. Nevertheless, coffee works best on brunettes or if you have fair hair and want to slightly darken its colour.
How to use coffee in hair care?
Natural coffee works perfectly, however, the most important matter is to choose a natural product of the best quality. Thanks to careful selection, your journey to beautiful hair is shorter and more pleasant. There is nothing more relaxing than hair treatment with a freshly brewed coffee ground scent.
The most popular ideas to use coffee, are:
– Coffee hair rinse,
– Coffee scalp scrub,
– Coffee as an addition to conditioners and shampoos.
Coffee hair rinse
Brew 2 – 3 teaspoons of coffee and wait 10 minutes. Separate the grounds from the infusion. Cool it down a little bit, add to cups of clean, cool water. You can apply the liquid in two ways: rinse hair – simply pour it all over your head or soak your hair in a bowl for a few minutes.
Coffee scalp scrub
Your scalp also requires regular cleansing. Coffee scrub is a great way to exfoliate and get rid of any remaining dead skin cells. Perform a few-minute massage. Such treatment will perfectly nourish hair bulbs.