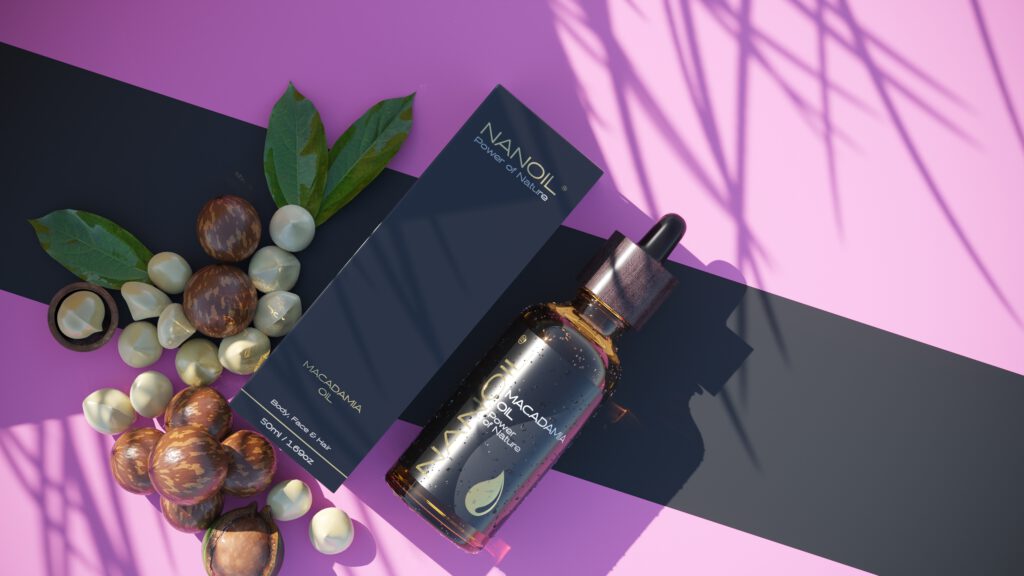 Macadamia oil belongs to the group of the world's most popular beauty oils. It is commonly used in skin and hair care owing to its phenomenal nourishing, restoring and moisturizing properties. The highest quality macadamia oil is hypoallergenic and does not clog skin pores. Each drop of this natural cosmetic is full of essential fatty acids which human organism is not able to produce on its own. Which macadamia oil is the best one?
We know it – it is Nanoil Macadamia Oil.
This lightweight, non-greasy oil is surprisingly easy to penetrate through skin and hair shaft, thus its nickname – 'Vanishing Oil.' Its chemical profile is similar to human sebum. Macadamia Oil by Nanoil is a highly recognized source of omega-7 fatty acid, which is responsible for keeping cell membranes strong, replenishing skin with water and accelerating healing up of skin injuries.
Nanoil is an incredibly light and unique balance of both EFAs and vitamins that this pure, organic oil makes use of. Thanks to these qualities, and to the fact that Macadamia Oil by Nanoil is cold-pressed and unrefined, you can be sure that the cosmetic you are holding in the hands offers you the highest quality. The very quality is proven by Ecocert label.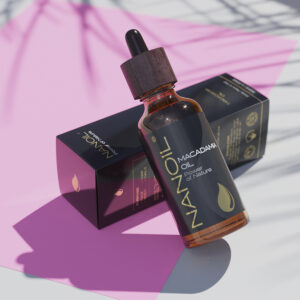 Macadamia Oil is compatible with human sebum – it is almost alike the sebum that our skin secretes. This unique similarity enables Nanoil to penetrate hair and skin effectively and supply them with everything what is crucial; the similarity also protects skin by combating TEWL. The same protection shields skin and hair against the adverse action of urban pollution.
It is worth realizing that Nanoil Macadamia Oil is a pure oil that is free from additives and synthetic substances. The oil knows how to restore good health and softness to hair. Also, it shields against sun rays and damage (including mechanical damage that hair is exposed to during combing).
Actually, Macadamia Oil is more than just a hair care product. The fact that this natural substance can be used as face and eye serum, body balm, bath oil, massage oil or a carrier oil for essential oils works in the oil's favour.
Finally, Macadamia Oil by Nanoil is an ally in fighting against skin injuries and stretch marks because it serves well when used in the form of massage oil. It can be rubbed into the entire body, without exceptions. Owing to treating body with Macadamia Oil, skin becomes supplied with vitamins and mineral substances (vitamin A, B-group vitamins such as B1, B2, B3 as well as vitamin E, squalene, lecithin and phenols). Such a set of precious substances makes Nanoil Macadamia Oil work as a strong antioxidant.
Beauty benefits of Nanoil Macadamia Oil:
works as a protecting agent and repairs damaged hair
leaves skin elastic and supple
combats and minimizes stretch marks and cellulite
soothes sunburns and extends the lifespan of suntan
applied during sunbathing it shields epidermis (macadamia oil offers natural SPF 6)
is good at nourishing and replenishing skin with water
suitable to be used as cream, balm, conditioner and mask additive
perfect for being used in the form of relaxing, healing and body shaping massage oil
fights back pimples, scars and discolorations
can be used as natural alternative to face and eye serum
regenerates dehydrated hands and conditions cuticles
can be used to treat mature and aging skin because it
displays anti-aging properties
suitable to be applied to kid and newborn's skin as well as used by the pregnant and  women during the postpartum period