It offers organic certificate and is based on Ayurvedic complex of Indian hair oils. It is a light formula offering a very strong oriental fragrance. It has been enriched with seed oils and plant extracts. Khadi Vitalising Hair Oil is to strengthen the hair, boost its growth and condition in a complex way. The product offers 100 ml but it is efficient thanks to a precise pipette.
Advantages

Disadvantages

composition of Indian oils
lots of plant extracts
effective hair growth booster
complex conditioning action
lightweight formula

quite high price
intense oriental scent
DETAILED DESCRIPTION:
Khadi hair growth oil is one of the most interesting hair care products which offer a formula based on natural Indian medicine. Pure Ayurvedic Vitalising Hair Oil contains the substances which have been used in Ayurveda for ages.
They make Khadi hair oil so safe and effective. It is free from harmful and potentially comedogenic substances.
The ingredients, which shouldn't weigh the hair down, are the most important in hair oils. There is nothing to worry about in case of Khadi Pure Ayurvedic Vitalising Hair Oil. It is a mixture of the best oriental oils and plant extracts which delivers maximum effectiveness. Exclusively natural ingredients make the cosmetic unmissable.
What are the substances included in Khadi oil?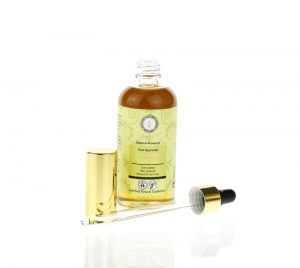 Mixture of Indian oils:
bhringraj oil
brahmi oil
amla oil
bala oil
Other natural plant oils:
sesame seed oil
coconut oil
carrot seed oil
castor oil
rosemary oil
Extra plant extracts:
butea flower extract
fenugreek extract
other oriental extracts
The variety of natural oils and extracts makes Khadi hair oil one of the best hair growth booster. The composition of active substances has a direct influence on the action of the product. Pure Ayurvedic Vitalising Hair Oil mainly stimulates hair growth but it is also a splendid strengthening oil. Therefore, it prevents hair loss and noticeably improves the condition of the strands.
Khadi isn't only a hair growth oil. Thanks to the above-mentioned ingredients, Pure Ayurvedic Vitalising Hair Oil nourishes the hair from the roots to the ends, which reduces dandruff, hair loss, premature greying and split hair ends. Khadi hair oil adds bounce and shine. If you use it regularly, your hair becomes longer as well as more beautiful.
You can be delighted with the formula of Khadi Vitalising Hair Oil or it may discourage you – it's the matter of taste. The cosmetic has a very strong oriental and slightly herbal fragrance. Some people really like it whereas others find it irritative. The consistency of Khadi hair growth oil is rather light and liquid, which makes the application easier. A handy pipette also enhances the application of the oil.
The consistency of the oil is definitely an asset – one portion of the oil is enough to cover the entire length of hair. Khadi Pure Ayurvedic Oil doesn't weigh the hair down but it may leave an exotic scent on hair which some people (with more sensitive sense of smell) may find unbearable. However, it must be mentioned that the cosmetic provides express action and long-lasting effects.