Multitasking oil for all hair types. Davines OI OIL with roucou oil provides complex care and repair as well as enhances styling. Minimalism is visible both on the packaging and in the ingredients. Absolute Beautifying Potion contains only two oils, vitamins and additional substances. Although the bottle offers 50 ml of the oil, clear and light consistency of OI OIL makes the product hold out long.
Advantages

Disadvantages

exotic roucou oil
very simple and interesting ingredients
minimalist and handy packaging
complex action
formula with sunscreen and vitamin E
light and clear formula

very strong fragrance
large amount of damaging substances
quite high price
DETAILED DESCRIPTION:
Davines Beautifying Potion OI OIL is a very interesting proposition for those who want minimalism in their hair care. Both the ingredients and the design of Davines hair oil make it stay among the best beauty products which offer natural oils.
If you want to take care of your hair – do it with Absolute Beautifying Potion.
We can write lots of things about the ingredients of other cosmetics whereas the formula of Davines OI OIL is really simple. The simplicity of the product is its biggest asset. Although it contains only two oils, it delivers complex action and works perfectly for all hair types. OI OIL absorbs quickly and brings almost instant relief to the hair. Sadly, a large amount of artificial substances has also been added.
What are the substances included in Davines OI OIL?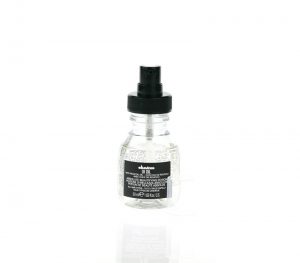 Natural oils:
roucou oil (extracted from Achiote)
sunflower seed oil
Other ingredients:
sunscreen
vitamin E (tocopherol)
extra moisturising and nourishing substances
Although the composition of OI OIL Absolute Beautifying Potion is really simple, it provides multidimensional action – conditions and makes styling easier. It owes its versatility to roucou oil which plays a key role in Davines OI OIL. The oil contains a lot of ellagic acid which is responsible for the processes of cell ageing.
OI OIL regenerates, strengthens, protects as well as makes hair shiny and resilient. It keeps hair density, eliminates hair loss, maintains proper moisture and conditions all types of hair. We can say that the action of Absolute Beautifying Potion is versatile – thanks to two oils.
The formula of the product is also worth mentioning. The consistency is oily whereas the colour may be surprising – Davines OI OIL is transparent, which is probably caused by a small amount of oils which are responsible for an amber colour of cosmetics. Absolute Beautifying Potion has a very strong fragrance which resembles professional cosmetics from hair salons.