Kerastase Delicately Beautifying Scented Oil is a luxury and expensive product which turns out to be a complete failure. It contains natural oils and plant extracts as well as lots of alcohols and silicones. Consequently, it is more runny and may cause dryness. The fragrance may be irritant – it resembles spirit. It costs a lot and the only positive thing is its handy and elegant bottle with a pump which makes the application comfortable. At first, it works perfectly for fine and delicate hair but after longer use, it may be harmful.
Advantages

Disadvantages

four conditioning oils
rose petals extract
handy bottle and pump
sunscreen

irritant alcohol scent
a lot of alcohols included
very high price
very runny formula
DETAILED DESCRIPTION:
Kerastase is a Parisian brand that offers luxury cosmetics. Among the variety of Kerastase products, we can also find hair care cosmetics, including Delicately Beautifying Scented Oil for fine and delicate hair. It looks great and costs a lot so it should be good value for money – after all, this oily hair serum is based on the complex of oils and provides versatile action.
First of all, the brand didn't do well – the ingredients of Kerastase Oleo-Complex Rose Millenaire leave a lot to be desired. The price is really high so we would expect much more than complex of oils and extracts disturbed by silicones and alcohols that you can smell during the application.
Sadly, the ingredients of Kerastase Rose Millenaire Hair Oil are disappointing.
What are the substances included in Kerastase Rose Millenaire Hair Oil?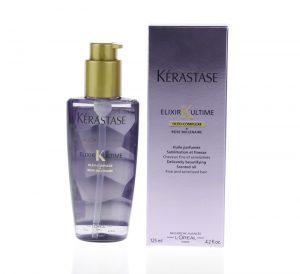 Natural oils:
corn oil
argan oil
camellia oil
pracaxi oil
Other ingredients:
You should be aware that the product contains large amount of alcohol. As a consequence, if you use the product regularly, your hair may get dry. What is more, the alcohol may weaken the action of the oils. The cosmetic also includes silicones. Their amount is bigger than the amount of beneficial substances. Unfortunately, the brand has let us down with the components.
Even rose extract, included in Kerastase oil, is unable to make up for the bad impression. This ingredient is responsible for the protection of delicate strands from harmful factors. Complex of oils, which can be seen on the label, consists of: corn oil which gives softness and shine; argan oil offering strong nourishing and repairing action; smoothing camellia oil and exotic pracaxi oil which penetrates inside the hair easily, moisturises and regenerates.
Kerastase Oleo-Complexe Rose Millenaire seemed really promising. In an exchange for a really high price, we get a very runny serum which offers strong alcohol scent. It is neither oily, nor beneficial to hair. The application is not easy due to the runny consistency whereas the fragrance may discourage from Kerastase Rose Millenaire.
On the other hand, we must praise the packaging. Kerastase Rose Millenaire Hair Oil has a very handy bottle which has been made of thick plastic; it looks like glass bottle but it isn't so you don't need to worry that it will break. The elixir can be applied to wet or dry hair, before or after washing. There is a handy pump which helps to apply a proper amount of the product.